At Frankfurt Fashion Week, the FRANKfurtstyleaward will present the 2nd Special Edition of the International Young Talent competition under the motto "Fashion with a Mission" at the Frankfurt Fashion Lounge on January 18, 2022.
"Fashion with a Mission" at Frankfurt Fashion Lounge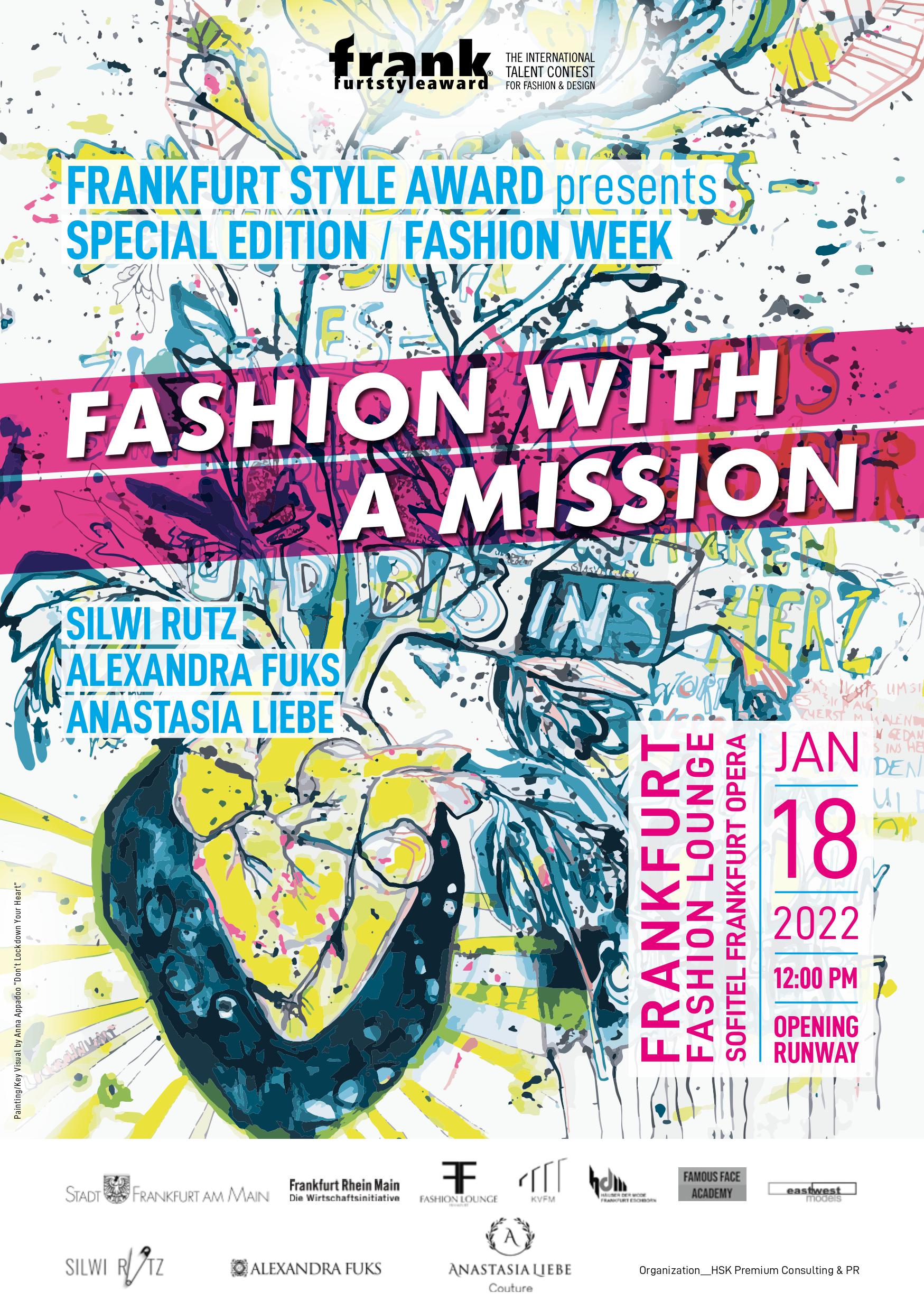 The FRANKfurtstyleaward has been making history in promoting young talents in fashion & design since 2008. In its 2nd Special Edition, three successful designers present themselves with their established labels, who started their careers on the stages of the international competition in Frankfurt.
The Designers
Alexandra Fuks – the Frankfurt-based designer from Kazakhstan won the FRANKfurtstyleaward 2015 and launched her label in 2016. She shows her handmade leather creations "Amazone".
Silwi Rutz – the Swiss-born designer lives in Konstanz and won the FRANKfurtstyleaward 2019. Sustainability and individuality play a major role in her "Pret-à-Porter" collection "Don't Lockdown Your Heart".
Anastasia Liebe – the Frankfurt native with a Russian background from Aschaffenburg started her label "Anastasia Liebe Couture" after winning the "Outstanding Talent" award of the FRANKfurtstyleaward 2015. She has been an honorary jury member since 2019. She shows her exclusive "Romantic Bridal & Gala Couture".
"Fashion with a Mission" – the opening Runway Show at Frankfurt Fashion Lounge
The FRANKfurtstyleaward (out)lives the Corona years and stands by its promise to promote outstanding talent. The collections of the designers Alexandra Fuks, Silwi Rutz and Anastasia Liebe run on the Opening Runway of the Frankfurt Fashion Lounge:
Event: Opening Runway Show "Fashion with a Mission"
Date & Time: Dienstag, 18. Januar 2022, 12.00 Uhr
Location: Frankfurt Fashion Lounge, Sofitel Frankfurt Opera, Frankfurt
More than a decade FRANKfurtstyleaward
The FRANKfurtstyleaward has been in Frankfurt for more than a decade. It is a talent exchange that makes innovative ideas, creativity and outstanding creative performance visible. Under the patronage of the City of Frankfurt, a sustainable institution has been created in more than ten years, which annually challenges more than 1,000 fashion schools worldwide, their students and alumni to deal with socially relevant topics and sets impulses for the fashion industry.